You may have noticed how obsessed with real-time video content everyone is these days. The ability to simultaneously record content and broadcast it to viewers is literally changing the world.
From political protests to solar eclipses, and small concerts to large business conferences, there is an established expectation — a hunger — for real-time involvement in the world around us.
Using apps like Facebook Live, Twitter's Periscope and Instagram Stories, we can now be anywhere at any time — participating, learning, observing. If attempting to quench the growing thirst for up-to-the-moment information is the goal we've been working towards, we're close to nailing it now.
The urgency and transparency live streaming offers is unlike any other media. It's continuous, unedited, and viewers see whatever the camera operator wants to show them.
It's important to be mindful of these things. (With great power comes great responsibility!)
It's also important to realize how useful live streaming can be in elevating your business goals. It's only getting easier to integrate into your marketing regimen, and there's probably a lot more uses for it than you realize.
In case you have any doubt, here are six reasons to think about using a live stream for your business now and then:
1. Let People Get to Know You
Put a face to your brand. Literally. Never before have brands been able to represent themselves in such a direct way. And this is great, since today's consumer sees more value when they feel like they "know" a brand.
Designate a personable team member to handle the feed and be the face of the company when going live. Or, pass it around and let followers meet different "brand ambassadors" throughout a session — setting the ground rules with them ahead of time.
Cutting through some of the typical shtick of consumer/brand relationships can go a long way for your business. Your audience will appreciate that you've embraced this contemporary method of making yourself readily visible and available.
But besides your faces, what sort of things should you be streaming to your audience?
2. Give Behind-the-Scenes Glimpses
Time for a factory tour!
While there are likely many things you don't necessarily want your customers to see as far as day-to-day business operations, it's a blast for followers to see a little bit about what goes on behind your doors. Think of it as a "walkthrough" of your workspace, and you're having guests over to take a little tour.
If you have assembly lines or workbenches where products are born, snippets of the action and a little "Hello!" from employees at their stations adds entertainment value. Or, if your business doesn't make things onsite, you can still take the opportunity to show off some of the results of what you do, introducing your team and putting faces to the various roles behind your company.
3. Have a Conversation
Because of the direct-to-viewer nature of the medium, live streaming can seem as personal as a video conference call, albeit with potentially thousands of viewers on the other end. Although you can't see all those fans' faces, they can respond to you via comments and reaction buttons.
The direct, real-time involvement live streaming encourages is one of the most useful and telling features of the medium. It's a lot more stimulating to be involved in something that's live and happening now rather than later, after the moment has passed. In fact, followers react over 10 times more to Facebook Live videos than on regular videos.
And you, in turn, should be taking advantage of this natural reaction to respond to those comments (or as many as you can)! It's a perfect way to open up the floor and extend your brand image on a directly personal level.
After all, how often do customers have a chance to get a specific answer or explicit feedback straight from the brands they follow?
4. Add Legitimacy & Transparency
Besides showing off who you are by peeling back a layer or two — and being able to address followers in real time as they view your content — offering a regular live stream is a perfect way to stay in touch with who you are as a brand. Regardless of the focus or overall quality of the content, the fact that you're reaching out to your customers adds to their good will and perception of value.
Live streaming gives you full control over the message you're sending — as long as the environment you're set up in doesn't contain any potential surprises that will affect the broadcast negatively (e.g., ambient noise, echoing, competing tech, etc.).
5. Build Anticipation — Immediately!
Again playing off live streaming's natural urgency, you can capitalize on events such as sales, big announcements or product launches.
National brands as prominent as T-Mobile use Periscope (via Twitter) to broadcast product unboxing videos for the hottest new phones.
Smaller, local retail operations are using live streams to give customers sneak peaks at store grand openings, sponsored events or big sales.
It doesn't matter how big or small your marketing budget is — with a little creativity you can run a stream that's fun and engaging. Just go in with a clear goal in mind, and don't skimp on the enthusiasm (to the extent that it fits your brand)!
6. Get Technical With Your Production
Live streaming, by nature, is made for on-the-fly convenience and casualness. Often shot with a just a single phone, the stream offers one hand-held peephole into the scenario.
But that's not the only way to approach live streaming.
Depending on the technology you have at your disposal, the live stream can become quite an impressive production, with multiple cameras, angles, onscreen graphics and other effects to enhance the quality of the event. Adding these elements will increase hardware costs and pre-production time dramatically.
Here's a typical hardware diagram for a full production-level lifestream event. As a full production, you may lose some of the personable and spontaneous aspects of the stream, but the stability that comes with using real cameras and the professionalism that a full crew brings to the process will result in a high quality product.
Approaching it as a team effort, rather than from a singular perspective can add a whole new dimension and feel to the project.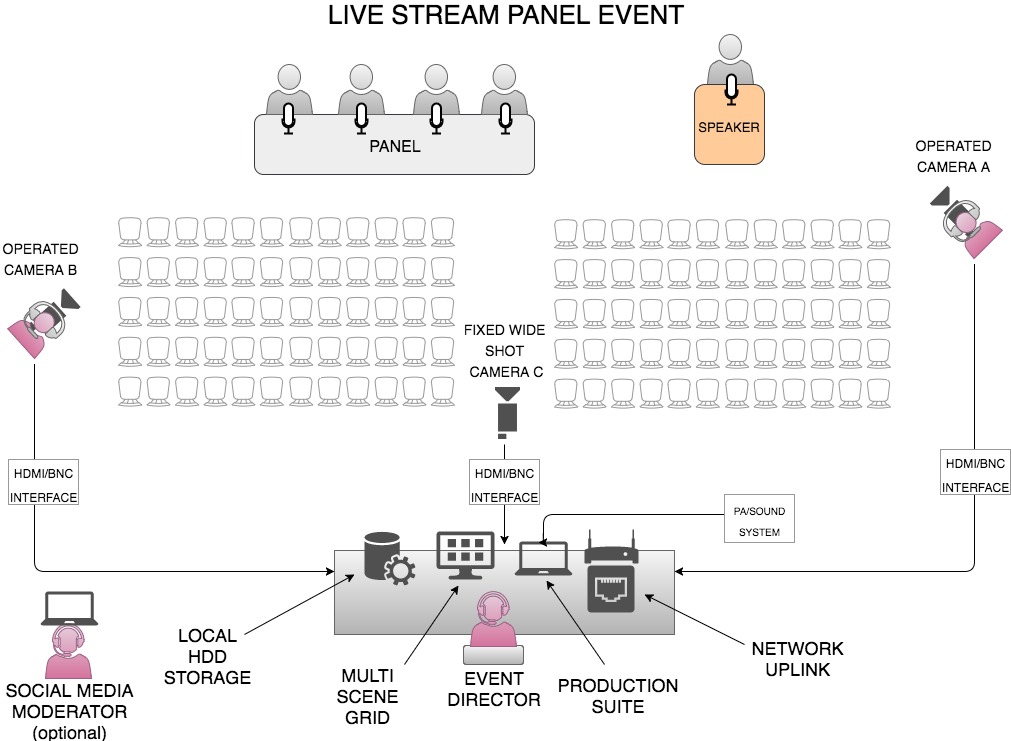 Keep in mind that live-stream events are as the name implies: LIVE. They are unforgiving and do not allow for mistakes to be edited out. Live events take a certain amount of resolve and ability to improv. The quick thinking of your event director can save a broadcast if an awkward situation arises. A professional event broadcast team can take the stress out of producing your larger live-streaming events.
Ready to get started? Reach out for more information about covering your event with Stealth's Live Broadcast team.